Click To Enlarge
The Battery BacPac works as both a charger for your spare HD HERO & HD HERO2 batteries and plugs into the back of both camera models to nearly double record times. Perfect for long duration time-lapse photo sessions, endurance motorsports racing or any application where you need up to 2X* the battery life.
*NOTE: actual battery life may vary.
What's Included:
• 1 Battery BacPac
• 1 Li-ion Battery
• 1 Waterproof door for HD HERO Housing
• 1 Skeleton Door for HD HERO Housing
• 1 USB Cable
• Warranty: One Year
NOTE: may require firmware upgrade. Visit this link for firmware upgrade: http://gopro.com/support/hd-hero-firmware-update/ . See image below to determine what camera you have.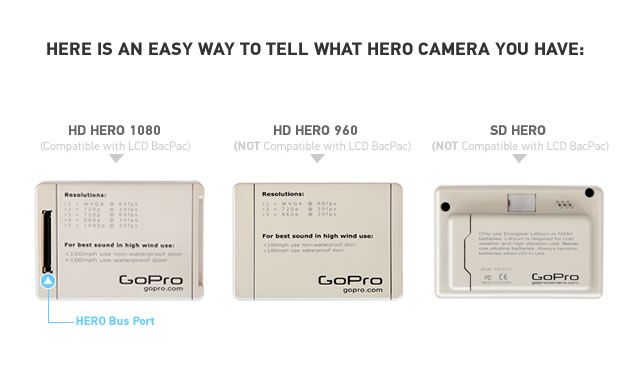 Fits current HD HERO & HD HERO Wrist Housing when used with included backdoors. The Battery BacPac is NOT compatible with the HD HERO 960. Actual battery life may vary.
Battery BacPac Features:
• Attaches to the back of the 1080p HD HERO camera, allowing for up to 2X* extended record times
• Plugs into any USB charging source to charge your spare HD HERO batteries. Charges 960p and 1080p HD HERO camera batteries
• Built in LED lights indicate battery power status