Click To Enlarge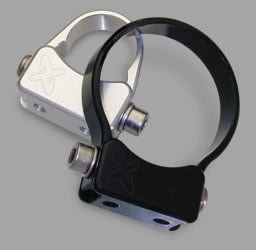 This universal mounting bracket allows you to mount just about anything to your roll cage. This bracket clamps around your roll cage giving you the ability to mount roofs, speaker bars, speaker pods, cameras, racks, lights, gun racks, etc. This bracket also has space available for to drill and tap your own holes for any of those custom installs.
This Universal mount is just one of the many attachments that are available for the AXIA Alloys modular roll cage clamping system. This innovative system allows you to purchase several different sizes of strap clamps depending on your roll cage tubing diameter, and apply these clamps to a variety of unique attachments. These strap clamps have an extremely low profile around the cage tubing for clearance under windshields, roofs, and other accessories, not to mention a custom look that is not available with other larger clamps. This mount is precision machined out of aircraft quality billet aluminum.
One (1) Piece comes with two (2) 6mm female threads.